U.S. Masters Swimming Articles & Videos
Presented by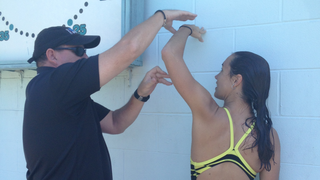 Coaching / Drills
No, you're not hitting it or pushing off of it. You're using it to teach your tactile and kinesthetic learners what a really good freestyle pull feels like.
Whats New?
The final USMS Top 10 list is posted on the USMS Top Ten Search Page. An e-copy of the Top Ten Booklet may also be found by selecting "Printed Listings" on that same page.
Sports Medicine
If your mother told you to sit up straight as a child, consider yourself lucky. Her not-so-subtle reminders may have prevented you from suffering a variety of dysfunctions later in life. Here, we'll look at a few common postural issues and some exercises that can help correct them.
Advertorial
A pull buoy is a compact and easy tool to use while you swim. Placed between the legs, the pull buoy creates an ideal body position by lifting your legs to the surface. From Olympian to novice, pulling is a great way to increase endurance, improve technique, and add some variation to your swim workout.
Human Interest
I always look forward to meeting new people, whether it's through travel, working out, or practicing with different Masters swim clubs. Recently my wife and I and our two oldest sons planned to...

The USMS website contains articles about sports medicine, health, and nutrition. This information is not intended to be a substitute for professional or medical advice on personal health matters. For personal medical advice, or if you are concerned about a medical condition or injury, see your healthcare provider for evaluation and care. The USMS website also contains articles about swim training and technique, including drills and workouts. All swimmers should be evaluated by a healthcare professional prior to beginning swim training. In addition, consult with a trained coach when introducing new technique or drills to your swim training program.