U.S. Masters Swimming Articles & Videos
Presented by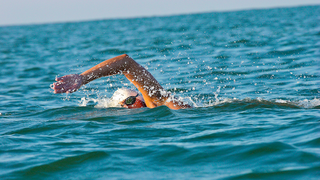 Coaching / Stroke Technique
We've spent a number of years preaching high elbow. There have been various interpretations of this directive, and we'll get into that shortly. But as I was working with a rather flexible athlete recently, a funny thing occurred to me: we never talk about where the shoulder should be.
Stroke Technique / Training / Triathlon
Before you begin incorporating training equipment into your workout sets, it's important to understand that such tools should be used to correct technique, not swim faster in training sets....
Training
As a kid you may have heard, "don't take such a big bite" during mealtime. And we've all heard the analogy of eating the elephant "one bite at a time." The same philosophy holds true for...
Biography / Human Interest
Olympian and USMS on-deck correspondent Misty Hyman, 34, of Phoenix, Ariz., is best known for winning the women's 200-meter butterfly in stunning fashion at the 2000 Sydney Olympics. In a glorious...
Training
Butterflies in your stomach, sweaty palms, racing heartbeat, and dry mouth—these are the calling cards of "nerves" that all competitors have probably felt before a race. They're not pleasant, but the key is to use those jitters to your advantage; don't let them overwhelm you. 
Biography / Open Water
New York resident Bob Unger, 56, swims with the Seawolves Masters in the Metropolitan LMSC. He started as a middle distance runner in high school and college, but an injury and life got in the way...

The USMS website contains articles about sports medicine, health, and nutrition. This information is not intended to be a substitute for professional or medical advice on personal health matters. For personal medical advice, or if you are concerned about a medical condition or injury, see your healthcare provider for evaluation and care. The USMS website also contains articles about swim training and technique, including drills and workouts. All swimmers should be evaluated by a healthcare professional prior to beginning swim training. In addition, consult with a trained coach when introducing new technique or drills to your swim training program.