U.S. Masters Swimming Articles & Videos
Presented by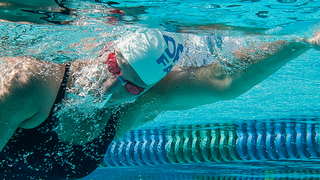 Coaching / Training
Learning to improve control of your breathing while swimming is a valuable skill that will enable you to power off the wall, put your head down at the flags to win a race, or not panic in open water...
Health and Nutrition / Sports Medicine
In our article, "Swimmers' Sun Exposure and Skin Cancer," Sherrif F. Ibrahim, assistant professor of dermatology and oncology at the University of Rochester Medical Center, warns swimmers about...
Health and Nutrition
Summer is approaching, and that means more outdoor competitions and swimming practices. Yes, making that interval or winning that race is important, but so is protecting your skin from the sun while on the deck and in the pool. 
Sports Medicine
Masters swimmers who are driven to train and compete don't usually cope well with painful conditions or injuries. However, adapting training so injured tissues can heal is imperative to health and...
Sports Medicine
While diligently training for another state meet or nationals, it's easy to forget that rest and self-repair go a long way to improving performance. A great way to rejuvenate an exhausted body is to invest in a therapeutic muscle massage.
Sports Medicine
It's happened to most of us at one time or another: You tighten your goggles another notch to stop water from trickling in, then pressure above your eye that started as an irritation quickly advances to head pain.
Fitness / Sports Medicine
You're on the ninth of 10 x 100s and push off the wall, psyched to bring the set home. After a burst of three dolphin kicks off the wall, it feels like a knife has suddenly pierced your calf muscles....

The USMS website contains articles about sports medicine, health, and nutrition. This information is not intended to be a substitute for professional or medical advice on personal health matters. For personal medical advice, or if you are concerned about a medical condition or injury, see your healthcare provider for evaluation and care. The USMS website also contains articles about swim training and technique, including drills and workouts. All swimmers should be evaluated by a healthcare professional prior to beginning swim training. In addition, consult with a trained coach when introducing new technique or drills to your swim training program.