U.S. Masters Swimming Articles & Videos

By Author: Dustin Poe
Presented by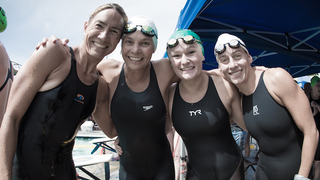 Technique and Training
Let's be honest: Masters Swimming is the best activity around. However, there are a lot of swimmers out there who don't take advantage of everything the sport has to offer. If you've never swum in a meet before, you're missing out on a huge part of the sport.
Technique and Training
In high school, I ran track and field, and my coach once told my team that in running, there were three H's to remember: hips, hands, and knees (insert chuckle). However, in swimming backstroke, there really are three H's to remember.
Technique and Training
Some people have great kicks, but when you take away the kick board and ask them to swim, their kick disappears faster than a fair weather swimmer on a cold day. So how do we get the lower half of...

The USMS website contains articles about sports medicine, health, and nutrition. This information is not intended to be a substitute for professional or medical advice on personal health matters. For personal medical advice, or if you are concerned about a medical condition or injury, see your healthcare provider for evaluation and care. The USMS website also contains articles about swim training and technique, including drills and workouts. All swimmers should be evaluated by a healthcare professional prior to beginning swim training. In addition, consult with a trained coach when introducing new technique or drills to your swim training program.