U.S. Masters Swimming Articles & Videos
Presented by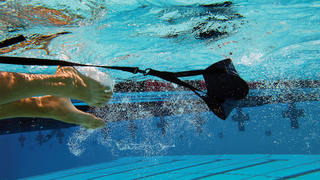 Drills / Training
If you don't have a coach helping you, start this set from whatever end necessary to get the best look at the pace clock for accurate sprint times. Be sure you've had a full warm-up prior to starting this high-intensity sprint set.
Biography
USMS honors Leslie Scott with a 2012 Kerry O'Brien coaching award: "You have proven that vision, enthusiasm, and persistence are a hard combination to trump. Seeing one discontinued program as an...
Biography
USMS honors Laura Schuster with a 2012 Kerry O'Brien Coaching award: "For over ten years, Mountain View Masters has benefited greatly from the services you have provided to the organization, both on...
Biography
The growth of adult swimming in the California central valley since 2004, be it for fitness or competition, is due in large part to Kurt Olson's ability to envision what could be, commit to making it...
Biography
Based out of Florida, the Villages Aquatic Swim Team Masters are an enthusiastic group of Masters swimmers over the age of 50. With 44 years of coaching experience, Gary Henderson uses his influence...
Biography
USMS honors Timothy Edmonds with a 2012 Kerry O'Brien coaching award: "The members of the Stanford Masters speak very highly of Tim's ability to orchestrate a highly energized practice to the entire...
Biography
For 17 years Valeriy Boreyko, "Val," has been infusing his passion and expertise for the sport of Masters Swimming with a heavy dose of warmth, sense of humor, and generosity, creating a bonding...

The USMS website contains articles about sports medicine, health, and nutrition. This information is not intended to be a substitute for professional or medical advice on personal health matters. For personal medical advice, or if you are concerned about a medical condition or injury, see your healthcare provider for evaluation and care. The USMS website also contains articles about swim training and technique, including drills and workouts. All swimmers should be evaluated by a healthcare professional prior to beginning swim training. In addition, consult with a trained coach when introducing new technique or drills to your swim training program.