U.S. Masters Swimming Articles & Videos
Presented by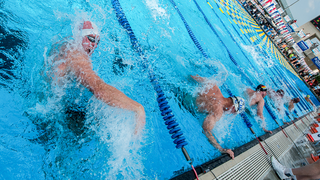 Stroke Technique
Excellence is not accidental. While we might be able to perform any particular movement properly during a focused drill, it takes tons of practice to ensure that those skills become so ingrained...
Coaching
From our perspective as Masters swim coaches, the benefits of participating in our programs are obvious. Masters swimming provides conspicuous improvements in health, fitness, and racing speed—as...
Training
When talking to people at the pool, I often hear the phrase, "Oh, I'm not a real swimmer." The person then proceeds to tell me that they are a triathlete or a runner, or perhaps just someone who enjoys working out in the water. And yet, there they are swimming.
Coaching / Stroke Technique / Training
When U.S. Masters Swimming began in 1970, Mark Spitz had only earned his first two Olympic gold medals, and Michael Phelps was 15 years away from even being born. Today, the Spitz poster I had in my...
Coaching
When swimmers talk about flexibility, they're usually referring to exercises that increase range of motion, such as those discussed in the January-February 2014 issue of SWIMMER magazine. But...
Coaching / Stroke Technique / Training
Stroke drills are a fundamental part of a coach's toolkit. Proper drill execution fine tunes the senses, skills, and strengths that swimmers need to maximize our aquatic performance. A well-designed drill will:
Coaching
Every Masters swimmer knows that hard work is required for improvement. In fact, after we reach a certain age, hard work is required just to keep from losing speed. This hard work comes in three primary areas:

The USMS website contains articles about sports medicine, health, and nutrition. This information is not intended to be a substitute for professional or medical advice on personal health matters. For personal medical advice, or if you are concerned about a medical condition or injury, see your healthcare provider for evaluation and care. The USMS website also contains articles about swim training and technique, including drills and workouts. All swimmers should be evaluated by a healthcare professional prior to beginning swim training. In addition, consult with a trained coach when introducing new technique or drills to your swim training program.