U.S. Masters Swimming Articles & Videos
Presented by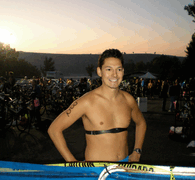 Fitness / Human Interest
Bryan Andrews can recall the exact moment when he hit rock bottom. "I was coming out of the gym after working out. Suddenly I just stood there in the parking lot screaming for help," Andrews...
Events / Open Water
What happens in Virginia doesn't always stay in Virginia, especially what happened at the U.S. Masters Two-Mile Cable Open Water National Championship at Chris Green Lake in Charlottesville where four national records were broken and three major milestones were achieved.
Events / Human Interest
U.S. Masters Swimming members Laura Ellsworth, 33, of Vancouver, Wash., and Jennifer Rigert, 37, of Portland, Ore., have a few things in common: They have been swimming together for two years, and...
Human Interest
Competition often brings out the best in people, and the 2009 U.S. Masters Swimming Long Course Nationals in Indianapolis was no exception. In the November/December 2009 issue of SWIMMER, you will...
Coaching / Human Interest
While many Masters swimming groups face a number of challenges in growing and sustaining their programs, the Fort Leavenworth Lancers have some unique challenges. The Lancers are in Fort Leavenworth,...
Fitness / Human Interest
Most of us know all about Jared, the Subway guy. We've even seen Michael Phelps endorsing his favorite foot-long, but do you know Jim Nelson? This Masters swimmer refreshes his life and his community and, through a national contest, is sharing the joy of the water with the entire country.
U.S. Masters Swimming member Gail Roper spoke to a group of Medtronic employees about the pacemaker that allows her to live a full life and continue to set swimming world records. Roper, 80, taught...

The USMS website contains articles about sports medicine, health, and nutrition. This information is not intended to be a substitute for professional or medical advice on personal health matters. For personal medical advice, or if you are concerned about a medical condition or injury, see your healthcare provider for evaluation and care. The USMS website also contains articles about swim training and technique, including drills and workouts. All swimmers should be evaluated by a healthcare professional prior to beginning swim training. In addition, consult with a trained coach when introducing new technique or drills to your swim training program.