U.S. Masters Swimming Articles & Videos
Presented by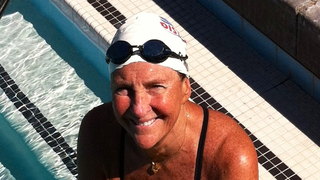 Human Interest
Bev Montrella, 66, of Mision Viejo, Calif., is a dedicated Go the Distance swimmer. She enjoys setting goals for herself, and Go the Distance helps her to do that.
Biography / Triathlon
Ben Munguia, 26, lives in Austin, Texas, with his wife and dog. He swims with the Longhorn Masters. Munguia started swimming in 2009. After 25 yards of freestyle, he claims he was often "absolutely...
Biography / Fitness
John Shumadine lives in Portland, Maine with his wife and daughter. He works as an attorney helping people solve land issues. When he's not working or swimming, he enjoys hanging out with his family.
Biography / Fitness
Lorraine Grix, 56, swims for Michigan Masters. She grew up in the Detroit area and still lives there today. Never having had access to a pool or a lake while she was growing up, Lorraine didn't...
Biography
Meet GTD Swimmer Katherine Clarke by Suzi Green Katherine Clarke, 68, swims with the Gulf Coast Pirate Swimmers in Pensacola, Fla. She's lived there for 20 years, but she and her retired airline...
Biography
Cindy Perkins, 59, lives in Fresno, Calif., and works as a medical librarian. She didn't swim growing up. She discovered Masters swimming in the early 1980s in Los Angeles. Since she doesn't...
Biography
GTD Swimmer: Matt Gunnet by Suzi Green Matt Gunnet is a 35-year old swimmer who's been swimming since the age of five, initially to help his asthma and allergies. He progressed through the age...
The USMS website contains articles about sports medicine, health, and nutrition. This information is not intended to be a substitute for professional or medical advice on personal health matters. For personal medical advice, or if you are concerned about a medical condition or injury, see your healthcare provider for evaluation and care. The USMS website also contains articles about swim training and technique, including drills and workouts. All swimmers should be evaluated by a healthcare professional prior to beginning swim training. In addition, consult with a trained coach when introducing new technique or drills to your swim training program.