U.S. Masters Swimming Articles & Videos
Presented by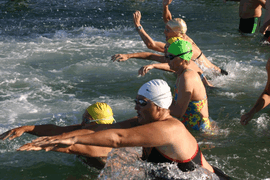 About USMS / Events / Open Water
Looking for an out-of-the-ordinary swimming event this summer? The USMS Calendar of Events lists a number of open water swims with unusual features. For those new to open water swimming, you may want to try an event that allows a little extra insurance. Events that allow swimmers to use gear include:
Vitamin D is known as the "sunshine vitamin."  The skin, when exposed to sunlight, manufactures copious quantities of Vitamin D.  So how could an active swimmer develop a Vitamin D deficiency?

The USMS website contains articles about sports medicine, health, and nutrition. This information is not intended to be a substitute for professional or medical advice on personal health matters. For personal medical advice, or if you are concerned about a medical condition or injury, see your healthcare provider for evaluation and care. The USMS website also contains articles about swim training and technique, including drills and workouts. All swimmers should be evaluated by a healthcare professional prior to beginning swim training. In addition, consult with a trained coach when introducing new technique or drills to your swim training program.