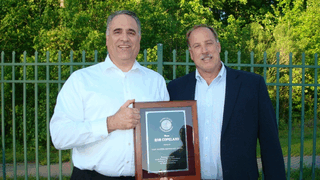 Past President Rob Copeland Honored with Ransom Arthur Award
A gracious Georgia giant in USMS!
Immediate Past President Rob Copeland was honored with the Capt. Ransom Arthur M.D. Award, USMS's most prestigious award. Copeland has served USMS for over 25 years and has been involved at all levels in each of the LMSCs he has resided in over the years. The award was presented by President Jeff Moxie, and a speech was read at Spring Nationals in Copeland's honor by Vice President of Administration Michael Heather. Look to the July-August issue of SWIMMER for more about this dedicated volunteer.
Rob Copeland Receives 2011 Ransom Arthur Award
Well deserved recognition
Speech read by Michael Heather in honor of Rob Copeland's receipt of the Capt. Ransom J. Arthur M.D. award, at Spring Nationals in Mesa, Ariz., April 29, 2011
As part of the leadership of U. S. Masters Swimming, one of the most important responsibilities is to recognize the service accomplishments of our members. Today we will be awarding our most prestigious award, the Capt. Ransom J. Arthur M.D. Award.
Ransom Arthur was the founding father of U. S. Masters Swimming. His vision for promoting adult health through fitness and competition was revolutionary in 1970. He created a stage upon which adults could gather, compete, have fun and support each other in the lifelong pursuit of fitness goals through training. Today, fitness has become a normal part of everyday life for millions of adults. This was not so in 1970, when 46 athletes gathered in Amarillo, Texas for the first Masters Short Course National Championship. Forty-two years ago Ransom had a passion and a vision. Today, our 55,000 members are the result of that vision and the torchbearers of his passion.
Each year U. S. Masters Swimming recognizes one of its members who embody the dedication, leadership and passion required to carry the vision forward. By promoting our core objectives of education, growth and service our recipient for 2011 continues the rich tradition.
It is with great pleasure that U.S. Masters Swimming recognizes this year's Ransom J. Arthur Award recipient Rob Copeland. Rob's love of the sport is evidenced by his long-term involvement in both the competitive side as well as with the organizational side of Masters swimming. He has a deep understanding of our rich heritage and our vision for the future. Rob has worked, and continues to work, at maintaining and improving our high level of quality programs and services.
Over the years Rob's contributions to US Masters Swimming have been many. On the national level, Rob has served on, and often chaired, multiple committees and task forces, including Legislation, Long Distance, Rules, Finance and Governance, just to name a few. More recently, Rob was the president of U.S. Masters Swimming from 2005 through 2009 and continues to serve on the Executive Committee as the Immediate Past President. Rob's calm demeanor and ability to calm the waters has served him well in the past, will continue to do so in the future, and is highly valued by the organization.
Rob is also active within his LMSC. He has served on the Board of Directors as well as being the Long Distance Chair and Safety Chair for the Georgia LMSC. In addition, he runs the very successful Peachtree City Short Course Yards Pentathlon every year and directs at least one open water event each summer.
Rob has been a tireless volunteer for U.S. Masters Swimming as shown by these few examples we have talked about. We are proud to give him the much-deserved recognition as this year's Ransom J. Arthur Award recipient.
Please join me in thanking Rob for his service to U.S. Masters swimming and congratulating him for being the 2011 Ransom J. Arthur Award recipient.