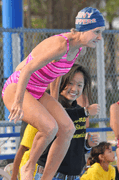 Member Featured in Local News Program
Sue Moucha is "On the Journey"
Sue Moucha just keeps going. The four-time paralympian and world record holder was recently featured in the "On The Journey" column of Tampa Bay's Fox News. Moucha, who's been a USMS member since 1986 and swims with Florida Maverick Masters, was born with cerebral palsy, which affects most of her right side. Moucha has managed to shatter any misconception about what it means to be disabled. She swims 4-5 times a week about 3000 yards per practice session. She holds world records and American records from the International Paralympics Committee. "All my swimming, whether it be practice or competing at a meet or open water event is able-bodied. That is a milestone for me. I swim for therapy and because I love the sport. I love the competition and the respect I have from my fellow swimmers," Moucha says. View the "On the Journey" piece for more on this inspirational swimmer.