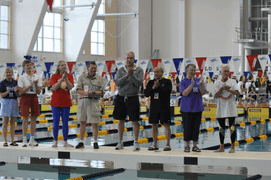 Previous Ransom Arthur Award Recipients Welcome Lynn Hazlewood
Brought problem solving skills and more to USMS
Long-time volunteer Lynn Hazlewood of Reston Masters Swim Team was awarded USMS's highest honor in May. The award is presented every year at Spring Nationals. Hazlewood was unable to attend, however, eight previous recipients of the award were on deck in Atlanta to honor her and welcome her to this supergroup of volunteers. From left to right are Nancy Ridout, Sandi Rousseau, Kathy Casey, Barry Fasbender, Jim Miller, Mel Goldstein, Betsy Durrant and Paul Hutinger. Hazlewood, 64, was honored for her enduring commitment to USMS and her 20-year history as a problem solver and active volunteer in critical areas within the organization. Look for more in the July-August issue of SWIMMER and visit the History and Archives section of the website to read President Jeff Moxie's speech honoring Hazlewood, delivered by Past President Rob Copeland in Atlanta.
Lynn Hazlewood Receives 2010 USMS Ransom Arthur Award
Soul of the organization
As part of the leadership of U. S. Masters swimming, one of the most important responsibilities is to recognize the service accomplishments of our members. Today we will be awarding our most prestigious award, the Ransom J. Arthur Award toLynn Hazlewood.
Captain Ransom J. Arthur was the founding father of U. S. Masters Swimming. His vision for promoting adult health through fitness and competition was revolutionary in 1970. He created a stage upon which adults could gather, compete, have fun and support each other in the lifelong pursuit of fitness goals through training. Today, fitness has become a normal part of everyday life for millions of adults. This was not so in 1970, when 46 athletes gathered in Amarillo, Texas for the first Masters Short Course National Championship. Forty years ago Ransom had a passion and a vision. Today, our 50,000 plus members are the result of that vision and the torchbearers of his passion.
Each year U. S. Masters Swimming recognizes one of its members who embody the dedication, leadership and passion required to carry the vision forward. By promoting our core objectives of education, growth and service our recipient for 2010 continues the rich tradition.
It is with great pleasure that U.S. Masters Swimming recognizes this year's Ransom J. Arthur Award recipient Lynn Hazlewood. Lynn is truly one of U.S. Masters Swimming's unsung heroes and has been fondly called the soul of the organization. She is involved with swimming for all the right reasons—love of the sport and she is one of the unique adult athletes that pursue fitness and competitive opportunities.
Over the years Lynn's contributions to US Masters swimming are many. On the national level, Lynn currently chairs the Open Water Committee. She has also served as chair of the Editorial Committee, Open Water Task Force, and Branding Task Force. One of Lynn's many strengths is the ability to effectively communicate within the group she is leading. She has a unique ability to make those around her feel valued in their contribution to the final product. Lynn also served on U.S. Masters Swimming executive committee as the Zone Chair and has been a valued member of the Communications Committee, Long Distance Committee, Publication Management Committee, and the Records and Tabulations Committee.
Lynn also chaired the Transition Team that was instrumental in allowing U.S. Masters Swimming to take editorial ownership of our member magazine. She continues to contribute to our communications strategy by organizing and publishing web content for usms.org and as editor of the Calendar of Events.
Lynn is also active within her LMSC. She has held various positions over the years, including club President, Vice President, Social Chair, Membership Chair, and LMSC Sanctions Chair and board member. Lynn was also a co-founder and is meet registrar of the Jim McDonnell Lake Swims, which is now in it's twenty third year.
Lynn is the epitome of a dedicated volunteer to U.S. Masters Swimming as shown by these few examples we have talked about. She is often the first person we think about when a new challenge faces U.S. Masters Swimming that needs an objective, reliable and knowledgeable leader—and while Lynn does not seek recognition for her work we are proud to give her that recognition as this year's Ransom J. Arthur Award winner.
Please join me in thanking Lynn for her service to U.S. Masters swimming and congratulating her for being the 2010 Ransom J. Arthur Award recipient.
Presented at 2010 SCY Nationals by Rob Copeland
Nomination for Lynn Hazlewood - 2006 USMS Communications Award
Lynn has been an active part of the USMS Communications Committee since it was created, and has been an important contributor to the USMS web site. She has also maintained the Long Distance Section of the USMS web site, and the USMS Calendar of Events for several years.
Lynn's tireless behind-the-scenes activities during the development of SWIMMER magazine have been nothing short of extraordinary. In 2004, Lynn led the process of involving USMS members in advisory roles with the Transition Team, the Content Proofing Team, and the Editorial Board. While others were focused primarily on editorial content, Lynn realized very early on that USMS needed its own business management group for the magazine. In 2005, she developed the proposal to make the Editorial Board into the Editorial Committee, and the Committee became a standing committee in a time when USMS was actively seeking to reduce the number of committees. Lynn handpicked committee members for the new committee, held monthly conference calls with meeting minutes, and developed an editorial policy manual. Furthermore, she meticulously documented the whole process.
Along with her strong direction of the business management, Lynn has been a guiding light for the editorial direction of the magazine. She has always asked us to think about who we are as an organization, and has challenged us to think of new ways to serve our members. She has actively participated in the annual planning of the magazine during the first two years, and has proposed several ideas relating to the balance of content and new types of content.
I firmly believe that Lynn's volunteer activities on behalf of USMS should be the basis for more significant recognition, such as the Ransom Arthur Award, and it is my great pleasure to nominate her for the USMS Communications Award.