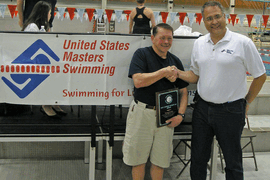 2008 Ransom Arthur Award Goes to Barry Fasbender
Active since the start of USMS
Barry Fasbender of Palo Alto, California, was presented with USMS's most prestigious award at the USMS Short Course National Championships at the University of Texas, Saturday, May3rd. This award, which is given in the memory of Ransom J. Arthur, the founder of Masters swimming, is presented annually to the person who has contributed greatly to the development of Masters swimming.
As is typical of many USMS leaders and volunteers, Barry's service to our organization is extensive and impressive. He was the sport head for Swimming at the 2006 XI FINA Masters World Championships held at Stanford University, and one of the four Board of Directors of the 2006 FINA Worlds Local Organizing Committee who worked three years to ensure that all five sports were successful.
Barry has been active nationally since 1993 and has served USMS as its Championship Committee Chairman, Rules Committee member, and Championship liaison for the 2000 and 2001 SC Championships that were two of the largest held. He has served his LMSC, Pacific Masters Swimming, in many capacities. Currently he's the LMSC vice chairman of Operations and the chairman of the Meet Operations committee that oversees the running of about 20 pool meets a year. He has measured and certified the length of 39 pools for Pacific Masters. He is also an active as a Stroke and Turn official and a Starter for many LMSC and high school swim meets. Barry is responsible for ensuring that all pool meets are held to the high standards of the LMSC and USMS.
Barry received the Dorothy Donnelly USMS Service Award in 1999, the Pacific Masters Distinguished Service Award in 1997 and the Pacific Masters Contributor of the Year Award for 2003 and 2006.
Barry's participation in the Masters swimming program dates almost to its beginning, competing in both pool and open water events. His first Masters Nationals was in 1973. In addition he has attended most USMS Nationals and many World Championships. Barry has helped Stanford University organize their Men's and Women's Pac10 swim meets. He was Meet Director of the Pac10 Women's Swimming Championships in Federal Way, WA in 1996. He ran the Meet Management program at the Time Trial Desk for the 2004 National Conoco-Phillips Long Course Swimming Championships held at Stanford. He served as an official for the swimming leg of the 2002 World Modern Pentathlon Championships held at Stanford. He also stepped in to help coach Gunn High School boys swim team to a league championship when their regular coach was injured and couldn't work. Barry has been named USMS All-American seven times and has been a National Champion four times.
Barry works in his community planting city trees, implementing neighborhood disaster preparedness, and volunteering his leadership at the YMCA. In the early 1960s, Barry was chairman of the Planning Committee in Bothell, WA. Under his direction the city of Bothell started plans to build a city pool where years later Olympian Synchronized swimmers practiced. For this and other services to the city he received the Bothell 1966 Citizen of the Year award. Barry is retired from Sun Microsystems where he was an Engineering Manager.
Barry Fasbender Receives 2008 Ransom Arthur Award
Long-term dedication
Leianne Crittenden | September 30, 2008
Barry Fasbender has been involved in Masters swimming for more than three decades, with increasing involvement each decade. He began swimming in local Masters programs in the 1970s and running local programs from 1983-1985. Barry moved on to the national level, attending his first USMS Convention in 1993, and has participated as Chair of the Championship Committee and as a member of the Rules Committee.
Barry establishes the practical foundations for success for Masters swimming competitors at all levels of the organization, as shown by his actions as Championship Committee Chair (obtaining HyTek timing for Nationals), preparing bid packages and acting as meet liaison for several USMS Nationals, as well as his current responsibilities for the sanctions and meet operations of all swim meets in Pacific LMSC that holds at least twenty meets each year.
Barry quietly and effectively gets all tasks done, from the small things like measuring all the Pacific swimming venues, to the large projects, like assuring that the first ever Relay Day at the 2006 FINA World Championships (with over 4,000 individuals participating) went off with out any visible hitches. This quiet competence makes him a crucial and dependable member of any task force on any issue related to Masters swimming. He is always available, always knowledgeable, and always a solid contributor.
Barry's legacy to our organization is that he not only gets the job, meet, or project done, but that he does it always with integrity, good grace and competence. His credentials and his long-term dedication to USMS make him deserving of this prestigious award.