USMS Tradeshow Display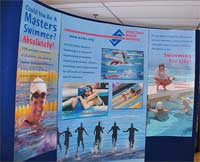 The USMS Tradeshow Display is available for use by clubs or LMSCs to promote USMS in your area. It is easy to set up, depicts all facets of the USMS program, and is ideal for health fairs, triathlons, and other special events. There are a number of display items available through the USMS National Office that can be used to enhance your presentation. These include brochures, luggage tags, decals, stickers, sticky note pads and complementary copies of USMS SWIMMER magazine. USMS pays for all shipping costs.
Tradeshow Manager
For more information and to reserve the USMS Tradeshow Display contact:
Mel Goldstein
USMS National Sponsor Liaison
(317) 253-8289
email
Tradeshow Schedule
Check out the 2006 Tradeshow Schedule to determine if the display is available on your show weekend.